We have put together a list of commonly asked questions regarding the upcoming FREE Broadway In Chicago Summer Concert in Millennium Park on Monday, August 14, 2023 at 6:15 p.m.
What time should I arrive?
Plan ahead! There is a security perimeter at Millennium Park. We advise arriving as early as you possibly can to this event as we do expect an extremely large crowd that regularly reaches capacity. The Lawn will open for seating following the set-up of the security perimeter between 3-3:30 p.m and Bowl seating is expected to open at 4:15 p.m. Seating in the bowl is first come, first serve and fans begin lining up several hours before the scheduled concert start time of 6:15 p.m.
All guests for the event will be required to enter through special entrances off of Randolph and Monroe streets. See letters A, B, E, and G.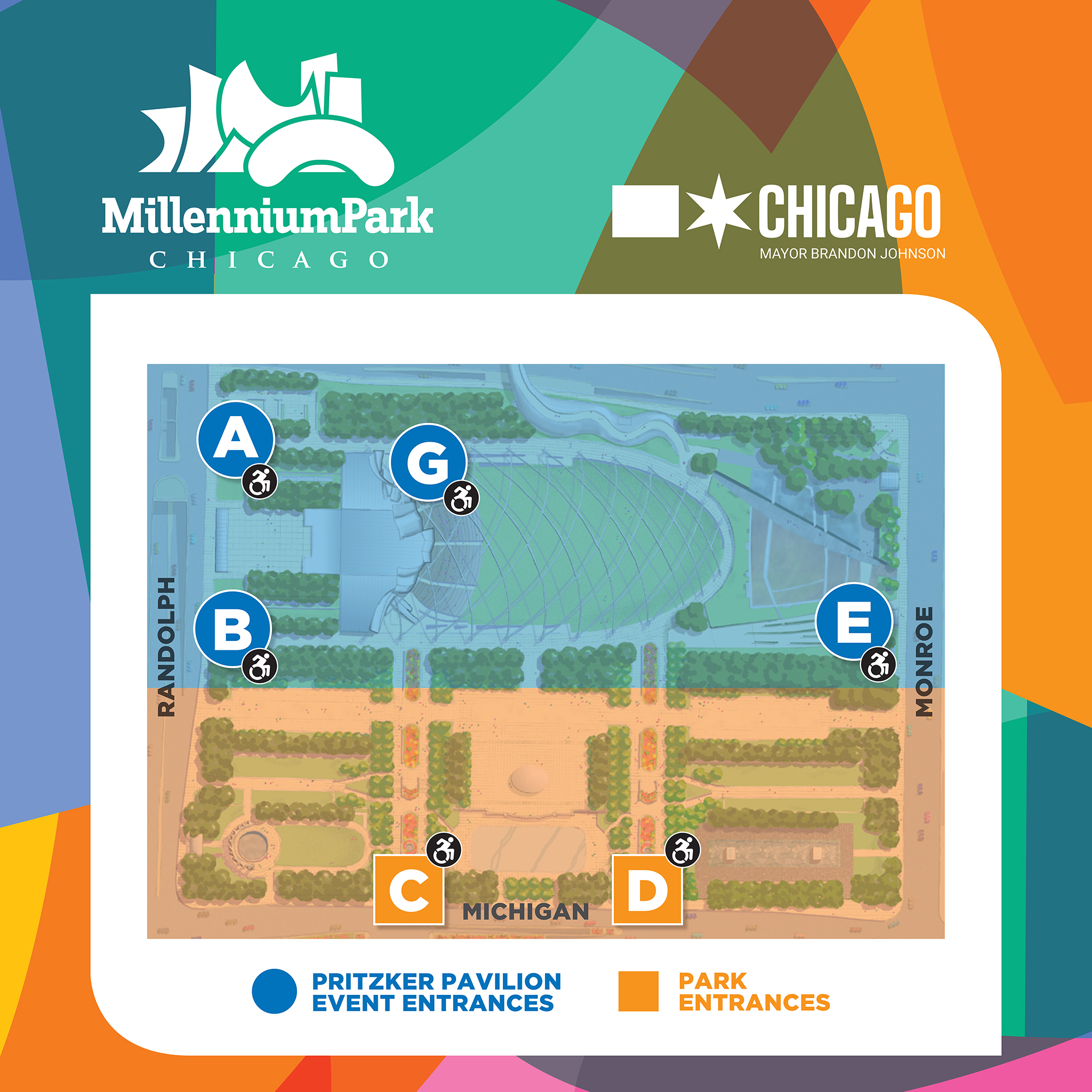 Millennium Park staff are responsible for crowd control and the organization of lines and entry so please direct any questions on the day of the event to their team members. Visit Millennium Park's website to plan your visit at: https://www.chicago.gov/city/en/depts/dca/supp_info/millennium_park_-planyourvisit.html
What happens if the park fills up?
The venue will close once capacity has been reached. Announcement of capacity closure will come via @Millennium_Park Twitter and with venue signage; there will be no pre-closure capacity based announcements. Concert-goers are recommended to arrive early, as entry cannot be guaranteed. If the venue is nearing capacity, you may be asked to release held space to make room for those waiting to get inside. Late arrivals may not be let in by park staff even if space is held.
What am I allowed to bring into the park with me?
Outside alcohol is permitted for this event. Outside beverages and food will be permitted after passing through a security checkpoint off Randolph or Monroe Streets. Bags and coolers must be smaller than 26L x 15W x 15H. Visitors will have additional food and beverage options, including alcohol, at various price points available for purchase inside the venue.
Please visit https://www.chicago.gov/city/en/depts/dca/supp_info/millennium_park6.html for additional Millennium Park rules, policies and list of restricted items not permitted within the venue.
How long is the concert?
The concert will run from approximately 6:15 pm to 7:30 pm. Start and end times are subject to change due to the nature of theatrical performance and depending on weather conditions the day of the show.
What will happen in case of inclement weather?
We're putting on the concert rain or shine, unless there are severe weather warnings and/or the imminent threat of lightning in the area. Bring your blankets and chairs, but bring an umbrella or poncho with you as well, just in case. There will be no rescheduling in the event the concert is canceled due to adverse weather conditions. Please make sure to follow Millennium Park on Twitter and Facebook for any updates on the day of the concert.
Will the event be live streamed?
No, due to union regulations, this event will not be live streamed nor recorded and shared at a later date.
Can I meet the performers before/after the concert?
There is no set meet-and-greet opportunity for this performance.
What accommodations are being made for patrons with accessibility needs?
Sign language interpreters will be present at the event for the duration of the performance.
Wheelchair seating spaces are available throughout the Seating Bowl and are first come, first serve once opened to the public.
Courtesy wheelchairs are available before the concert at the Millennium Park Welcome Center (201 E. Randolph Street) and should be returned to any usher or security guard at the end of the concert. Please note: Millennium Park staff is not available to push wheelchairs.
Accessible parking is available in Millennium Garages (5 S. Columbus Drive)
For further information, please visit: https://www.chicago.gov/city/en/depts/dca/supp_info/millennium_park1.html
When do tickets go on sale for the shows appearing at the concert?
Bookings for groups of 10 or more are open for all shows performing at the concert and can be made by calling 312-977-1710 or emailing GroupSales@broadwayinchicago.com
MJ, HAMILTON and A WONDERFUL WORLD are now on sale. Tickets for all currently on sale shows can be purchased here at BroadwayInChicago.com or by visiting any Broadway In Chicago box office.
For the other shows performing, tickets typically go on sale 8-10 weeks before performances begin in Chicago; however, concert attendees will be given a special presale code to begin booking tickets before anyone else for select shows! Can't make the concert? Join our email list!
Girl From the North Country, Mrs. Doubtfire and Peter Pan are part of the upcoming season subscription. Contact our subscription team for information about becoming a subscriber at 312-977-1717 or email subscriptions@broadwayinchicago.com